Dr. Elaine Cooper
Dr. Elaine Cooper, director of Cooper Center for Physical and Massage Therapies, Inc. established her private practice in 1981 to provide quality care by experienced therapists in an atmosphere emphasizing health for the body and mind and to honor our sprit.  Her educational background includes:
Doctorate in Physical Therapy from Boston University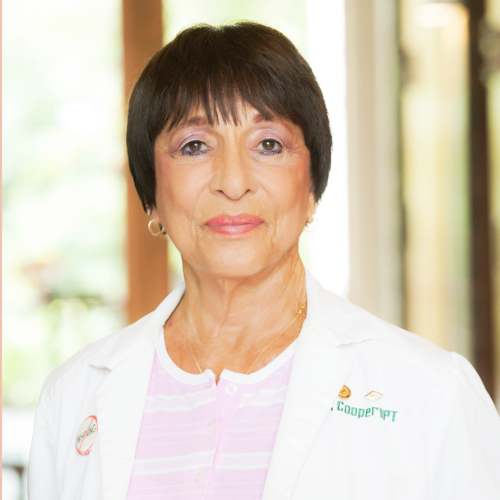 Post Graduate Work:
Post-Graduate Education from UCLA the Upledger Institute and Myofacial Release Center in Philadelphia and Sedonna
Cardiac Rehabilitation at Henry Ford Hospital
Gerontology at University of Michigan Institute of Gerontology
Acutherapy; Biofeedback; Advanced Mobilization courses through the Institute of Graduate Health Sciences, Atlanta, Georgia and Michigan State University
Myofascial and Somatoemotional Release seminars through Pennsylvania
Massage Therapy Certification and Treatment Temporomandibular Joint Dysfunction with Dr. Mariano Rocabado
Natural Health Professional Certification and Doctor of Naturopathy through Trinity College in Indiana
Bachelor of Science and Professional Certificate in Physical Therapy from the University of Michigan
In addition, Dr. Cooper has had extensive experience in sports and dance and in conjunction with this, brings to her practice, personal knowledge and expertise in the area of movement related injuries, stress reduction, and physical fitness. She is actively involved in dance aerobics, walking/running programs, Karate, Tai Chi, and Qi Gong.
Dr. Cooper's professional background includes supervision and consultation in the areas of rehabilitation, acute care, skilled nursing facilities, home health care, and orthopedics. She has served as a consultant to Medicare, an expert witness, and has acted in an administrative capacity utilizing management process and effective training skills.
The Cooper Center for Physical & Massage Therapies, Inc.
29805 Middlebelt Road, Farmington Hills, MI, 48334-2317 | Hours: MWF 7am-3:30pm, TTh 9am-8pm
Call to schedule your appointment: (248) 851-7050